Lunch, Snacks & Drink
Please be aware that the following information describes our usual routine and that arrangements during the COVID-19 outbreak are necessarily different. In particular, all meals will be eaten in the classroom within the 'bubble' group, and lunchbox style meals will temporarily replace hot meals.
At Queen's Inclosure, we see lunchtimes as a continuation of the children's learning time and endeavour to ensure they enjoy this opportunity to play and socialise with their peers and at times, even their siblings, as much as possible.
In order to ensure the comfort and safety of all our children, we stagger our lunch outside playtime and provide two dinner sittings. At the start of the year, Year 1 eat in the hall at 12:05 accompanied by the children taking hot dinners from Years 3 and 5, whilst the children eating packed lunches eat in their classroom base. At 12:30 these children go out to play. At 12:30, Year 2 eat in the hall accompanied by the children taking hot dinners from Years 4 and 6. These children will have already been out to play at 12:05. After each February half term this routine swaps over.
Foundation children eat in the hall from 11:45. They then have supervised play in their learning environment until the other children come in from the playgound at 12:55. The Foundation Stage Teachers then take the children out for their lunchtime playtime. After Christmas, or as soon as the children are ready and settled, they join the rest of the children for outside playtime at 12:30.
Lunchtime play is support by Planet Education who set up various sporting activities including football and basketball. Each year group has access to a box of multi-skill equipment and also an allotted time on our school Trim Trak each week. In addition, for those children who prefer it, we have a quiet area where they can sit and read books, play 'Cats Cradle' or simply sit and chat with their friends.
Each class has a designated Playleader. The Playleaders' responsibilities are to supervise children whilst eating and then to lead play during their lunchtime outside. Once returning to class and awaiting the return of the Teacher, the Playleader will often read a story or supervise the children reading quietly. Several lunchtime clubs are accessible for children including card making and board games.
We always welcome suggestions from our children, through their School Council, for how we can make their lunchtimes even more enjoyable.
Hampshire Caterers (HC3S) usually serve freshly-cooked hot meals daily (NOTE: During the COVID-19 outbreak, lunchbox style meals are being provided in place of hot meals). All our meals meet Government standards and are nutritionally balanced.
All children in Foundation, Years 1 and 2 are eligible for universal free school meals, which is government funded.
If a parent is on a low income, you may qualify for free school meals and/or Pupil Premium funding. For each child entitled for free school meals, the school receives £1320 additional funding, per annum, to help raise attainment.
Free School Meals / Pupil Premium Funding
Your child may be able to get free school meals and/or Pupil Premium funding if you receive any of the following:
Income Support
Income-based Jobseeker's Allowance
Income-related Employment and Support Allowance
Support under Part VI of the Immigration and Asylum Act 1999
The guaranteed element of Pension Credit
Child Tax Credit (provided you're not also entitled to Working Tax Credit and have an annual gross income of no more than £16,190)
Working Tax Credit run-on - paid for 4 weeks after you stop qualifying for Working Tax Credit
Universal Credit - if you apply on or after 1 April 2018 your household income must be less than £7,400 a year (after tax and not including any benefits you get)
Your child may also get free school meals if you get any of these benefits and your child is both:
Younger than the compulsory age for starting school
In full-time education
To check your child's free school meal eligibility, please submit your application via the Hampshire County Council's website. You will need to make a new application for each child but your information will be remembered to help you to complete multiple applications quickly:
Special Diets
If your child requires a special diet for medical reasons, you will need to apply for this online through Hampshire County Council.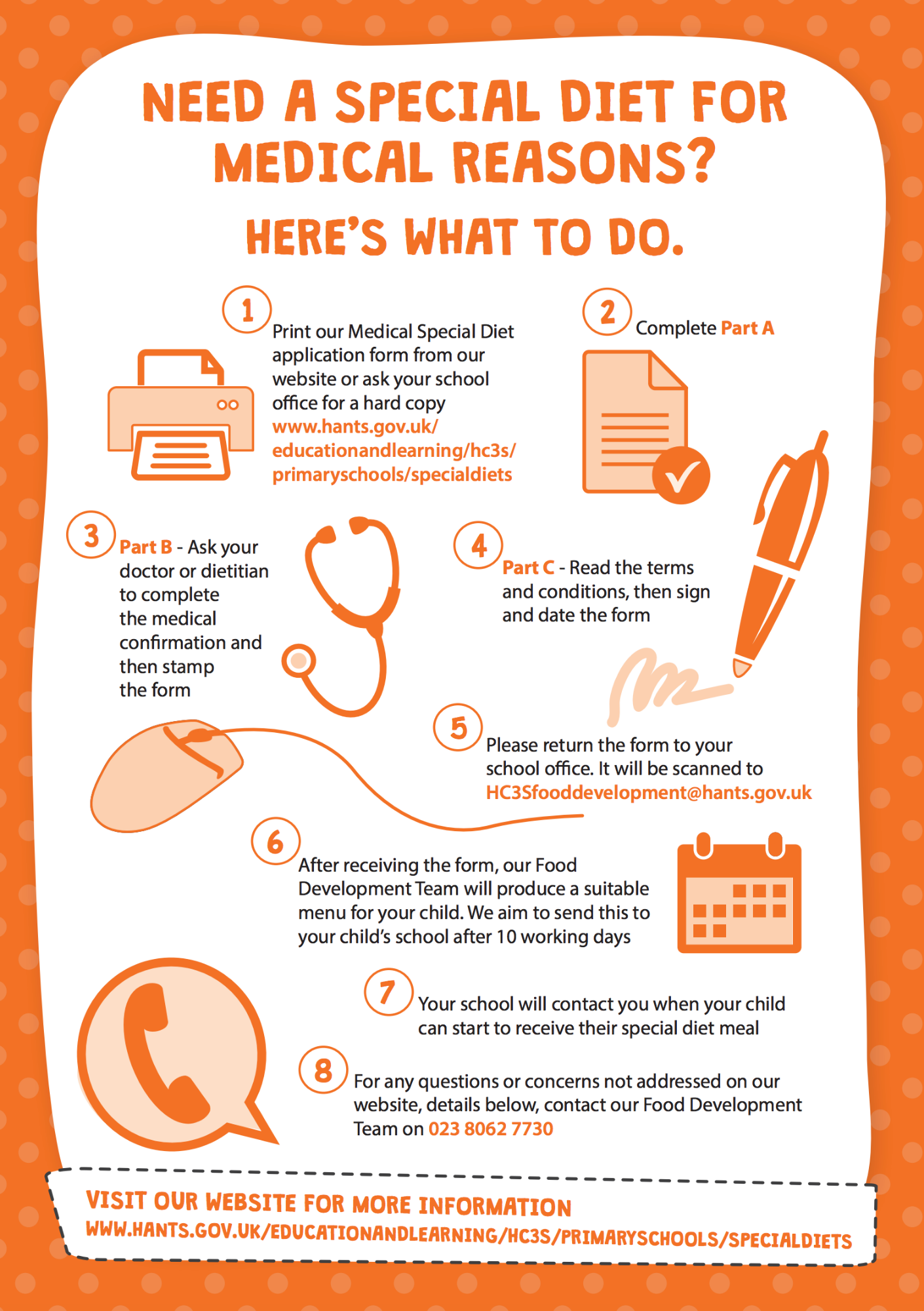 For further information, please use the following link (scroll to the end for the special diet request form):
Bringing a Packed Lunch
Packed Lunch
For those bringing in a packed lunch, we encourage parents to make this as healthy as possible by limiting items such as crisps and sugary snacks.
We do NOT permit:
ANY foods containing NUTS (e.g. hazelnut spread, peanut butter etc) – We have both staff and children with severe nut allergies.
Fruit winders, fruit strings, or any other food that is considered to be a choking hazard.
Glass bottles.
Fizzy drinks.
The NHS Change for Life website contains useful information about making healthy food choices.
We ask that lunch boxes and water bottles are clearly named. Each class has a designated Lunchtime Supervisor (Play Leader) to care for the children during the lunch hour.
Drinks and Snacks
Drinks
Parents are asked to provide their child with a water bottle, clearly labelled, for school use. We encourage the children to drink water throughout the day to stay hydrated.
Healthy Mid-Morning Snack
All children are encouraged to bring in a healthy mid-morning snack of fresh fruit or raw vegetables to eat during Story and Snack time. Please note that fruit bars or processed fruit/vegetable products are not suitable. If required, an apple, banana or orange can be purchased from the kitchen for 30p; a carton of apple juice is 35p.
Children in Years F, 1 and 2 are entitled to a free piece of fruit or vegetable as part of the Government's 'Fruit and Vegetable Scheme'.